On a hot summer day, during a zoo visit, the kids observed animals and occasionally burst into laughter making fun of their curious behaviors. I took that opportunity to ask a few questions:
Q1: Which has the highest number of cervical vertebrae, humans, or giraffes?
Q2: Does the crocodile brain has anything in common with ours?
Q3: How much DNA do we share with Chimpanzees?
The children got 100% wrong answers and so do most people 🙂. Here are the actual answers:
A1: Exactly the same. All vertebrates have the exact same number of cervical vertebrae: 7.
A2: Yes we do, it's called the reptilian brain and it still determines part of our behaviors today.
A3: Humans have 96% DNA in common with chimpanzees!
There are so many things we have in common with mammals, but we tend to believe that we are totally different. The only real difference lies in our brain, with our prefrontal cortex, and even that one is not exclusive to us.
The gist of this article is to take into consideration our biology in how we plan for change.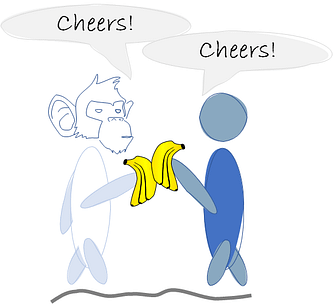 HUMANS ARE MAMMALS
Our brain is wired for the primitive jungle. Resistance links back to our survival mechanisms in the prehistoric era and we've carried them since in our DNA.
Today, we still use the same brain circuits to manage the business, relationships, art… No wonder why, at times, we come up with irrational decisions or get emotional outbursts we just cannot contain.
So let's get to know…
… Top human behavior drivers…
…and where they stem from:
We are a social species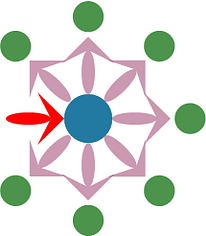 Belonging: conforming to the group affected our very survival in the cradle of mankind. Being rejected by the group in the hostile jungle meant death. Perceiving reality through biased social pressure filters was a good compromise to save our souls.
Social reward: Now we may not be rejected as such but still get a negative reward from our peers upon adopting a certain behavior. Positive and negative reinforcement (feedback, money, recognition…) progressively shape our conduct.
What can we do about it? Most people are either conformists or rebels. There is a sounder 3rd alternative: "personal opinion". There is a difference between taking into consideration others' feedbacks (openness) and cracking under social pressure (conformism). There is also a difference between being free and being a rebel. A rebel would almost always be in opposition to the group. Freedom is when we are able to break free from both being a conformist and a rebel. The solution lies in the combination of 1. high self-worth and 2. balanced ego yielding non-dogmatic self-confidence.
Switching from external reward (feedback, money, recognition…) to intrinsic impetus helps as well. As proven by numerous studies, the strongest motivations are purpose, values, passions…
2. Whoever fears, survives
The unknown: NLP aficionados say that "our subconscious prefers a known discomfort to an unknown comfort". With our entrenched scarcity mindset, we humans, are more concerned about what we may lose (known) than what we might gain (unknown). On top, exploring unknown territories may put us head-to-head with a new predator which introduces the next notion: risk.
A risk is a potential danger. Because our subconscious brain's primary role is survival, most of us are risk avert.
What can we do about it? We need to train brains to try new things in a safe environment. As leaving our circle of comfort becomes a habit, we progressively let go (irrational) fears. Trying new things doesn't mean going skydiving only (but why not ☺). We can learn a new game, talk to new people, travel, read non-fiction… Anything that makes opening up a habit.
3. Internal State
Emotions: according to Darwin there is one tree of life. Mono-cellular bacteria evolved over billions of years to yield the complex life we witness. Mono-cellular beings were simple and so were their preoccupations: 1. Seeking food and 2. Avoiding being preyed upon. Long after, when complex life developed, those preoccupations turned into two basic emotions: 1. Seeking pleasure and 2. Avoiding pain. These are the founding stones of our motivational system. In his book Drive, Daniel H. Pink explains this exact dynamic.
Effort: only lately has humanity experienced the comfort of local supermarkets and home fridges. If you are lucky enough to live in a "rich country", you don't have to worry about starvation. On the contrary, our ancestors had to carefully spend precious energy sourced in scarce food.
What can we do about it? The only worthy effort is the one that will decrease future effort☺, i.e. installing habits. Other elements may help training, practice, delegation, ergonomics, automation… Besides, enjoying what we do helps. When we reach a flow state, effort turns into pleasure.
4. Task Perception
Importance: to give importance to importance, we need to activate the prefrontal cortex. It does not happen all naturally. In auto-mode, we tend to react more easily to urgency…
Urgency: when a bear shows up, it's crisis time, we need to take our feet off our necks and run, no discussion, no moaning… just run! This is why, in today's world, one of the basics of Time Management training is to tell the important from the urgent. See the Eisenhower matrix.
Concreteness: concepts feed the mind but do not fill an empty belly. In the early days of humanity survival was an everyday challenge.
"A bird in the hand is better than two in the bush." — The average homo-sapiens. 🙂
Result: Remember our ancestors had no fridges. Their ability to spend calories wisely helped our species survive until you and me. Our subconscious makes sure we undertake only tasks with high odds of success not to jeopardize precious stamina.
What can we do about it?
. Our brain compares things to assess them. Because change is a crisis, it is more easily accepted if it helps solve another… crisis. It's swapping a crisis for another. So what problem are you solving thanks to the upcoming change?
. Enable yourself: hire the right people, get training, invest in tools, plan your time…
. Remind yourself of the purpose of the change (importance) and make it as concrete as possible.
Now that we understand better where our operating mode nests, let's put it in a…
… MODEL…
Please take a few seconds to plot 2 tasks on the above scheme: one you particularly enjoy & one you despise. You'll quickly notice the cursor will mostly be in the upper/right part in the first case and on the bottom/left in the second.
Using the model inside a company
As in most situations, there is a 2 steps process to follow:
Assess: set-up a committee that will assess readiness for change: 1. assign a readiness score for each axis and 2. clarify rationale.
Action plan: based on the above, the committee works an action plan to improve readiness on each individual axis. Scores are then compared as per the below radar graph.
Below are examples of action plan elements to improve readiness:
Bring expertise on board: train the teams, hire a consultant, leverage on experienced employees…
Drive clarity: set forth what will not change, organize an official announcement of change project…
Focus on what matters most: narrow down priorities, limit the number of initiatives, simplify/automate key processes, remove barriers, refine KPIs…
Improve engagement to the company: run a culture workshop, organize a team building, identify change champions…
And remember,
We are mammals. We are beings of habits. We shun change. This is linked to how our brain is wired. So, let's take it into consideration when are planning for change.
---
If interested in learning how to work with your nature and not against it, check out my book at WorkWithYourNature.com